Welcome to new readers who are here visiting from Victoriana Quilt Designs blog as well as those of you that have been here before. Please feel free to browse and look around my blog. Underneath my header photo, I have links to different pages. There are also tutorials there as well as along my side bar over to the right.
I'm taking part in a blogger's Meet and Greet to welcome Benita to the blog world. She has set up this meet and greet to help those of us that blog to get acquainted and visit each other's blogs. Benita is starting a new blog, so I'd like you to hop on over to her blog and take a look around. There will be prizes, too, so be sure to take a look at her blog and enter.
I'll tell you a bit about myself. I've been quilting for over 20 years and have tried many different kinds of quilts. Take a look on the quilts tab underneath my header photo.
Benita asked us to send her a photo of our favorite quilt. The Dear Jane quilt holds so many good memories for me because I have met people from all over the world through connection with this quilt. Twenty years ago, some of the quilters making this Dear Jane quilt started holding a retreat up in Shipshewana, Indiana. I've been going to the Jane Stickle Quilt Retreat for about 18 years and have met people that I wouldn't have met otherwise. Many of them have become close friends, and we've shared each others joys and sorrows. We will all meet again soon at the retreat, and I can't wait.
I like all kinds of quilting, but right now I am a bit obsessed with English Paper Piecing. Using paper pieces and a Sewline glue pen has made the basting process very easy. I love to find a piece of fabric that I can fussy cut to add a secondary design to a hexagon or a 6 pointed star. You can see my fussy cutting tutorial here.
Here is the link to Benita's blog. I hope you will stop by her blog, have a look around, and say hello while you are there.
https://benitaskinner.blogspot.com/2018/09/2018-online-quilters-meet-greet.html
Of course there will be prizes. Visit the link below or click the prize photo to be entered for a chance to win.
https://www.victorianaquiltdesigns.com/fabric/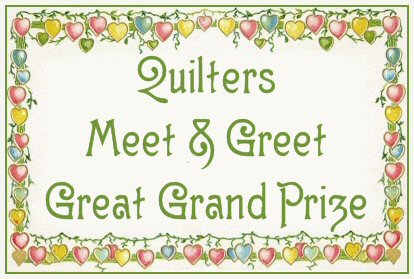 I hope you are finding some time to stitch today.
Thanks for stopping by for a visit.